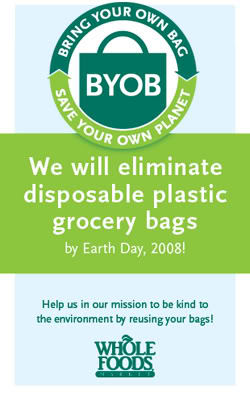 And some related good news, Whole Foods has announced they are doing their part to end the paper vs. plastic bag debate.
"When you come to shop, bring any bags you have on hand. Really, any bag will do – old, new, paper, plastic, fabric, even backpacks or woven baskets! You'll feel good about helping our environment and we'll even give you a refund of at least 5 cents per bag."
Paper, plastic, canvas…it doesn't matter just reuse! What a great move! For those able to shop at the Hy-Vee chain grocery stores, they've been employing a similar tactic for some time now.