Mae Fah Luang Garden and Doi Tung Tree Top Walk should be on your list of must-see places in Chiang Rai if you like nature, flower meadows, and adventure. Mae Fah Luang Garden is a popular place for tourists to visit in Chiang Rai. It is on more than 10 acres of land and has a hundred different kinds of plants, from red salvias and yellow daisies to rare lady's slipper orchids. Doi Tung Treetop walk is an exciting game where you pay 150 baht to walk 300 meters on a suspension bridge. From the bridge, you can see tall mountains and green forests, hear birds singing, and breathe in the fresh air.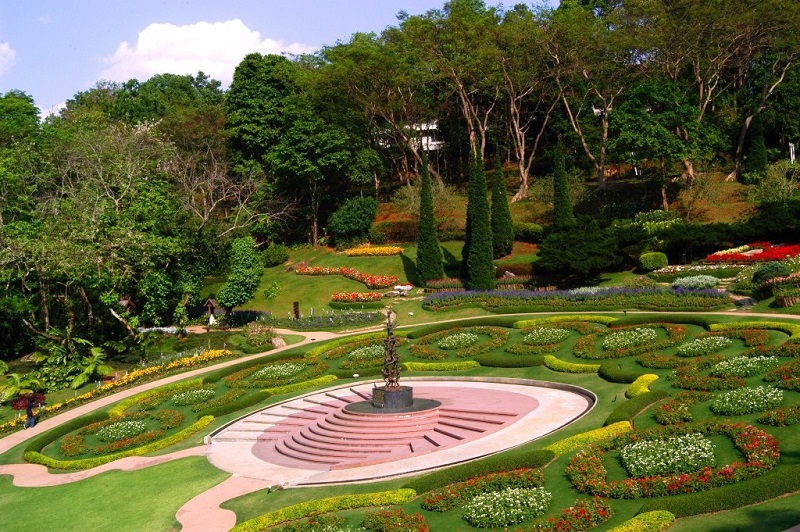 Choui Fong Tea Plantation is one of the biggest tea farms in Chiang Rai. It is on top of a hill and has a view of the fields around it. Some of the best teas in the country are grown in Choui Fong. The plantation is beautiful and hasn't been messed up in any way. It has well-kept tea scrubs on picturesque hill slopes with terraces. There is even a tea shop and restaurant with big windows that look out over the mountains and hills. The restaurant is new, clean, and has a lot of detail in its design. It has a terrace and big windows that look out on beautiful scenery. If you don't like tea, you can also choose from different kinds of coffee. Tourists usually stop here for 30 minutes to a few hours to take pictures or look around.
Doi Tung Royal Villa was the mansion home of Her Late Royal Highness Princess Srinakarindra, the Princess Mother built in the Lanna and Swiss architectural styles. It was built from the Princess Mother's private funds on the concept that the local hill tribes would be honored by the royal presence and will stop their opium cultivation. The exterior of the Doi Tung Royal Villa was made of concrete and decorated with wood slabs, cut from discarded teak trees. The interior is simply designed, but exudes elegance, reflecting the nature of the possessor of the mansion on Doi Tung.