Pai, located in northern Thailand near the Myanmar border, is a favorite destination for both backpackers and hippies. Its little town center is now teeming with guest accommodations, tourist stores, and Western-style eateries. It has been compared to Thailand's party islands, but without the beaches, due to its vibrant nightlife culture.
Pai, named after the river that passes through it, is located in a beautiful valley. The surrounding area is brimming with breathtaking natural tourist attractions, including glittering waterfalls, scalding hot springs, and picturesque mountains.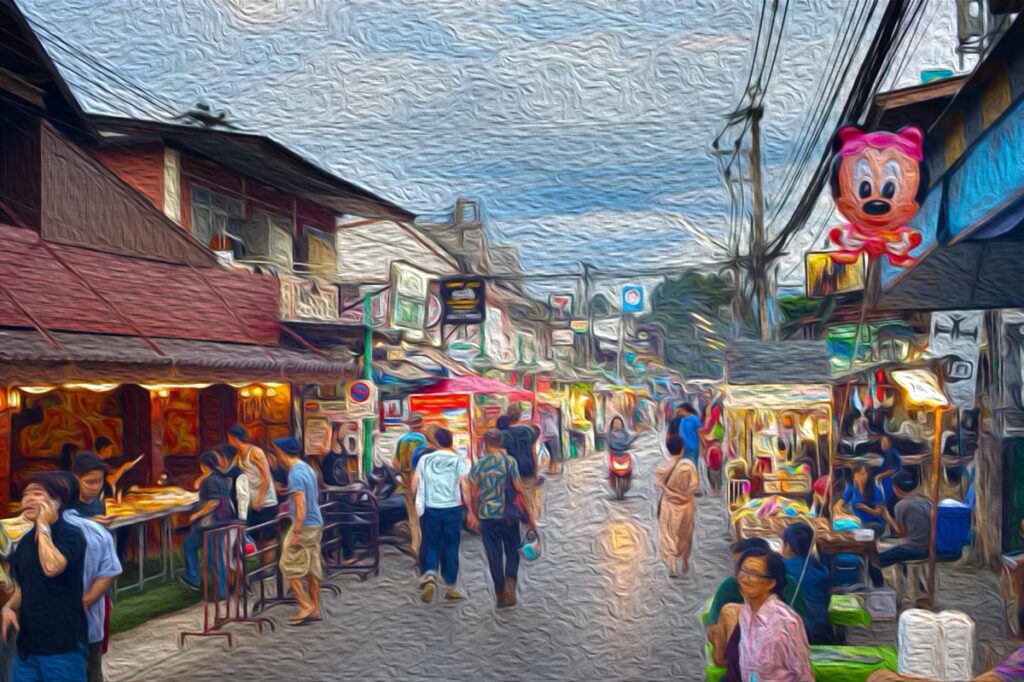 While the town is undeniably touristic, its rich legacy and culture can still be seen in its great temples and lively market, and the adjacent hill tribes keep their age-old traditions and practices. Pai is a terrific place to visit if you enjoy nature and culture, as well as outdoor activities.
Pam Bok Waterfall
Pam Bok Waterfall is a great place to go if you want to cool off in the water. It is not far from the town center, but it is in a very remote area. Since it is surrounded by high cliffs, it doesn't get much sunlight, so the waterfall and pool are pretty dark for most of the day.
In addition to taking in the beautiful view, visitors can take a refreshing dip in the pool or jump off one of the cliffs into the deep water below. Pam Bok is a great place to go if you want to go somewhere quiet and peaceful. It gets a lot fewer visitors than many of the more popular waterfalls in the area.
Memorial Bridge
During the Second World War, occupying Japanese soldiers built the first version of the bridge. In 1944, as they were being chased by the Allies, the same army burned down the first version of the bridge. The bridge was in a strategic place because it crossed the Pai River. After the war, locals rebuilt it in the way we see it now.
With its wooden planks and steel trusses and posts, the Memorial Bridge, as it is now called, reminds people of the more famous Bridge over the River Kwai. Memorial Bridge is a popular stop on the way from Chiang Mai to Pai. It's a great place to check out, and you can take some great photos on the bridge with the river behind you.
Mor Paeng Waterfall
Mor Paeng is one of the most popular waterfalls in the area, and it is easy to see why. It is hidden in a dense forest and surrounded by beautiful scenery. Visitors can enjoy the beautiful views, soak in one of the many pools, or even slide down one of the slippery slopes and jump into the cool water below.
It is less than ten kilometers from the town center, and the way to get there goes through some beautiful countryside. The only bad thing about Mor Paeng Waterfall is that it gets very crowded because it is so popular.
Tom's Elephant Camp
In the area around Pai, there are a few elephant camps that people can visit if they want to get up close and personal with these beautiful animals. Thom's was the first one to be started, and now four generations of the same family have worked closely with the elephants in their large sanctuary near the Pai River.
Visitors can learn everything there is to know about the three animals who live there—Tutdao, Ot, and Nguan—and feed and play with them in the river. Thom's Pai Elephant Camp is a great place to go because the animals are cared for like they are part of the family. The elephants are well taken care of and seem very happy. You can make new big friends at the camp, but you can also relax in the spa, go hiking along the river, or go exploring in the nearby mountains.
Mae Yen Waterfall
As the trail goes along the Mae Yen Luang river, you'll see some beautiful sights. Since you often have to cross from one side of the river to the other, it's best to wear shoes that won't get wet.
When you finally get there, the waterfall is a beautiful sight because it is surrounded by lots of trees and plants. Many people spend a few hours swimming in the pool or having a picnic on its banks because the area is so peaceful and beautiful. Because it takes so long to get there and back, it's best to leave early in the morning so you can spend as much time as you want admiring the waterfalls' natural beauty.
Boon Ko Ku So Bridge
The Boon Ko Ku So Bridge is over 800 meters long and winds just a meter or so above a huge patchwork of rice fields. Its unique look and location make it a pleasure to walk along. The bamboo bridge is in a beautiful place, surrounded by forested mountains. The best time to go is when it's raining, when you'll be surrounded by a sea of green rice plants.
Its beautiful scenery is definitely its main draw, but visitors can also stop by the cute little Buddhist shrine and have a cup of coffee at the small cafe in the middle of the rice fields.
Pai Hot Springs
The Pai Hot Springs are tucked into the forest in Huai Nam Dang National Park. They are a great place to relax, and the warm water is thought by many to have healing properties. The natural springs come up from the ground and can be as hot as 80 degrees Celsius. Thankfully, the bubbling stream that runs through them cools these hot jets of water.
Bathing in the hot springs while the forest is all around you is a very memorable thing to do. The soothing waters of the hot springs will leave you feeling refreshed and renewed.
Wat Phra That Mae Yen
Wat Phra That Mae Yen, which is on a hill and looks down on Pai, is a great place to go if you get the chance. The spiritual site is a very quiet place to think about things for a while. Once you've climbed the 353 steps to Wat Phra That Mae Yen, you'll be able to see an amazing view of the mountains and countryside around you.
In addition to its beautiful temple, golden chedis, and breathtaking view, the main attraction is the complex's towering white Buddha statue. The temple and its bright white Buddha are two of Pai's most popular tourist spots. Sunrise and sunset are the best times to see them.
Conserve Natural Forests
Conserve Natural Forests was started in 2014 to protect and preserve the natural landscapes and ecosystems of the Mae Hong Son Province. Its green message, environmental philosophy, and successful rehabilitation projects will please nature lovers.
Its forests and farms border the Pai River and are home to many endangered species. It is a great place to visit if you want to see Asian elephants in their natural habitat and interact with them.
Visitors can also take part in the foundation's conservation programs or learn more about Thailand's diverse plants and animals.
Land Split
The Land Split, which is on the way to Pam Bok Waterfall, marks the place where an earthquake tore a nearby farmer's farm apart, leaving a large crack between his fields. The steep, narrow rift that runs through his property is strange to look at, and it seems to show that a fault line runs deep below the earth.
You can also enjoy some great local food and fresh juice that the farmer sells at the entrance to his farm while you're there to see this unique phenomenon.
Pai River Tubing
Tubing down the river is one of Pai's most popular and fun things to do. If you want to have a good time, you can't miss it. In Laos, Vang Vieng is known for its loud river parties, but tubing on the Pai River is a very quiet experience.
People start upstream of Pai and slowly drift back down river with the current for an hour or two until they reach the town. Floating through Pai's many landscapes on the inflatable tubes while feeling the cool water below you is a lovely experience, and the whole trip should only cost you about $10.
Pai Canyon
Pai Canyon is a large area with a lot of beautiful landscapes that attract nature lovers and outdoor enthusiasts. Some people say it is Thailand's version of the Grand Canyon, which is a bit of an exaggeration.
This may be a bit of a stretch, but Pai Canyon's narrow, red-brown ridges that look out over steep drops and forested valleys do look impressive. The nature in Pai Canyon is also beautiful on its own, though.
As you walk and hike on its many trails and paths, you'll find some great spots to look out from. At sunset is a beautiful time to visit because the canyon is lit by a soft glow. Pai Canyon is just under ten kilometers from the town center and has some of the most beautiful scenery you'll ever see. A lot of people come here with a beer to watch the sun go down.