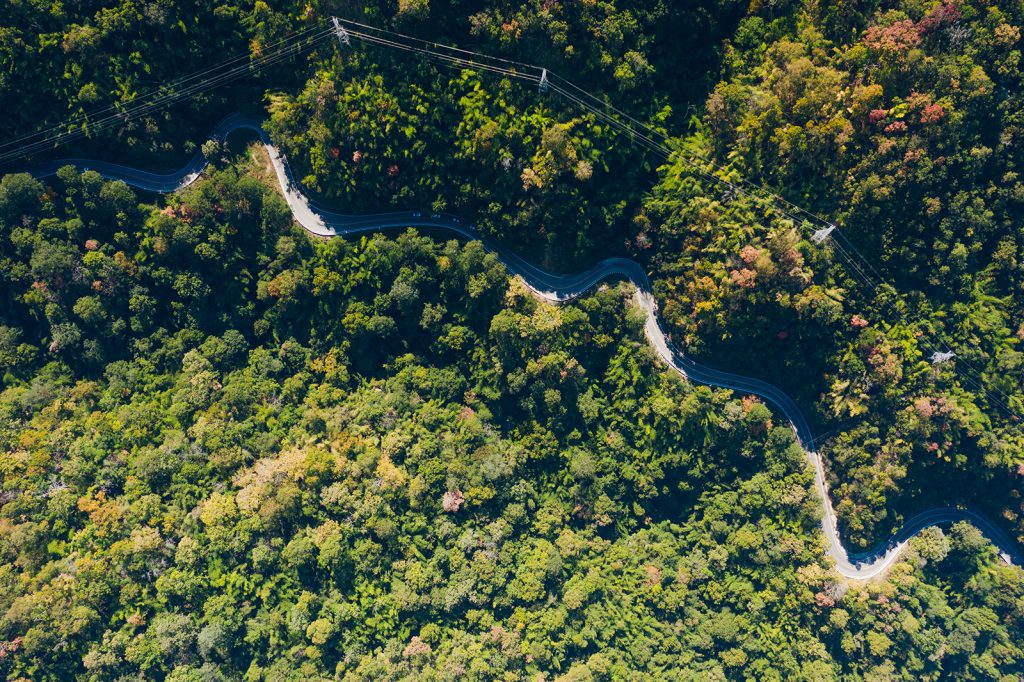 My first introduction to Phu Chi Fa was nothing short of enchanting. Nestled at the edge of Chiang Rai province in Northern Thailand, this stunning mountain area and national forest park serves as a natural border between Thailand and Laos. Marked by its breathtaking vistas and stunning sunrises, Phu Chi Fa quickly captured my heart whether you want to experience it up close or admire it from a distance.
During my adventure, I quickly learned that this iconic peak, part of the Doi Pha Mon sub-range, offers unparalleled opportunities for hiking, camping, and immersing oneself in the natural beauty of this lesser-known treasure. While Phu Chi Fa may be a bit off the beaten track, the journey is well worth it, offering an authentic and unforgettable Thai experience.
Location and Access
Phu Chi Fa is a stunning peak located in the highland region of Northern Thailand, right at the border between Thailand and Laos. As it offers some of the most spectacular views and sunrises in Thailand, it's a must-visit destination for travelers who love nature and outdoor activities. In this section, I'll guide you on how to reach Phu Chi Fa and the transportation options available.
Getting There
I found that the best way to reach Phu Chi Fa is to start from Chiang Rai, which is the closest city to the mountain. You can first get to Chiang Rai by taking a bus or a flight from Bangkok or Chiang Mai. It's important to note that there are no direct trains to Chiang Rai, so a bus or a flight would be necessary. When I went, I took a direct bus from Chiang Mai to Chiang Rai, and it took around 3-4 hours.
Once you reach Chiang Rai, it's time to plan your itinerary and transportation options to Phu Chi Fa.
Transportation Options
Motorbike Rental: Renting a motorbike in Chiang Rai is a popular choice among travelers who love the freedom and flexibility to explore at their own pace. I rented a motorbike for a day, which cost me around 200-300 THB, and drove 2-3 hours to Phu Chi Fa. Ensure you have a valid international driving permit and be comfortable driving in hilly regions.
Car Rental: If you prefer a more comfortable ride, consider renting a car from Chiang Rai city or Chiang Rai airport. The drive to Phu Chi Fa will take around 3 hours. Do take note of road conditions and be prepared for winding roads.
Join a tour: Alternatively, you can join a sightseeing tour from Chiang Rai, which includes transportation to Phu Chi Fa, guided hikes and possibly other attractions in the area. I found a tour on Tripadvisor that costs around $33.17 per adult.
Whichever transportation option you choose, experiencing the sunrise at Phu Chi Fa is a memory you'll cherish for a lifetime.
Viewpoints and Attractions
Phu Chi Fa is a beautiful mountain area and national park located in Chiang Rai province, Thailand. The park offers stunning views of the mountain ranges, seas of mist, and natural beauty that make it a must-visit destination for travelers. In this section, I'll share some of the highlights you might want to explore while visiting Phu Chi Fa.
Sunrise Spot
One of the most mesmerizing experiences I had at Phu Chi Fa was witnessing the sunrise. When I visited from November to February, the weather conditions were perfect for observing a stunning and magical sea of mist and clouds. The rising sun slowly crept over the horizon, casting golden light onto the blanket of fog below. This captivating scene at dawn is why many people, including me, have Phu Chi Fa on their bucket list.
If you are just as excited about capturing the breathtaking sunrise as I was, it's important to start early. The trailhead to the summit starts at the base of Phu Chi Fa, and it's approximately a 20-30 minute hike to the viewpoint.
Summit Trails
Hiking the summit trails is another must-do activity when exploring this beautiful park. I found the trails to be well-marked and relatively easy to navigate. The view from the top is incredible, as you're rewarded with 360-degree vistas of surrounding mountains, the Mekong River, and the Thai/Laos border.
While enjoying the summit trails, you can also visit the nearby Doi Pha Tang and Doi Pha Mon peaks, which offer additional opportunities for hiking and amazing viewpoints.
Throughout my journey in Phu Chi Fa, the beauty of nature was breathtaking. The myriad viewpoints, cliff paths, and seas of mist and fog made for an unforgettable trip. I highly recommend this gem in northern Thailand to anyone looking for stunning scenery and a memorable adventure.
Accommodations and Amenities
Camping Options
If you're like me and enjoy the great outdoors, you'll be happy to know that camping is a popular option at Phu Chi Fa. There are designated camping areas where you can set up your tent for the night. Keep in mind that the temperature can drop quite a bit, so don't forget to pack a warm jacket and a good sleeping bag.
Guest Houses
For those who prefer a more comfortable stay, there are several cozy guesthouses nearby. I found Chill Chill Guesthouse to be a particularly good choice with rates starting from 500 baht per night. With friendly hosts and rustic surroundings, you'll feel right at home staying here.
Resorts
If you're looking for a more luxurious experience, there are also a number of beautiful resorts in the area. I especially enjoyed my stay at Luk Phu Chee Fah, which offers top-of-the-range accommodations starting from 1,500 baht per night. The resort is nestled in the best location, with stunning views of the surrounding mountains and valleys.
Another popular spot is the Phuchifafaedviewresort, which offers even more spectacular views and excellent amenities, such as free Wi-Fi, 24-hour front desk, and a shared kitchen. If you want to stay closer to the Laos border, Ban Chomdoi Resort is a great option in PhaTang.
Best Time to Visit
In my opinion, the best time to visit Phu Chi Fa is during the cool season, between November and February. During these months, the weather is cooler and less humid, making the hike more enjoyable and increasing the chances of seeing the sea of clouds in the morning.
On the other hand, some people might like to visit during the colder months of January, November, and December when temperatures can easily go below 10 degrees Celsius. However, be prepared for chilly weather and make sure to pack warm clothes, as it can get quite cold on the mountain and in the village.
In terms of public holidays, there aren't any specific holidays in Phu Chi Fa during these months. However, make sure to plan around the high tourist season, which occurs from November to February. This may affect accommodation availability and transportation options.
What to Bring
When I planned my trip to Phu Chi Fa, I made sure to bring some essential items to make the most of my experience. Here's a list of things I found helpful:
A map of the area is crucial, as Phu Chi Fa is a bit off the beaten path, and it's helpful to have a clear idea of where you're going. I downloaded an offline map on my phone for easy navigation.
Since Phu Chi Fa is best experienced at sunrise, you'll likely be visiting in the early hours of the morning. So, pack a light jacket, gloves, a hat, and a scarf to stay warm in the frigid temperatures.
The walk from the parking lot to the viewpoint can be dark, so I brought a flashlight with me to see my way around. It also came in handy while navigating the hiking trails.
If you plan to drive up to Phu Chi Fa, having a driver is an option. I decided to rent a motorcycle for the adventure, as I heard it's a great way to explore the area.
If you don't speak the local language, having a guide who knows English may be helpful. I found that most people at Phu Chi Fa were friendly and more than willing to assist.
And as a bonus, carrying some instant coffee along can make the early morning visit more enjoyable. Trust me, it's worth it when you sit on the mountain and sip on your hot coffee while watching the sunrise from this amazing spot!
Adventure Options
Nature and Photography
Phu Chi Fa, located in northern Thailand, is a stunning destination that attracts tourists, locals, and nature enthusiasts alike. When I visited the national forest park, I was amazed by the breathtaking landscapes and endless opportunities for capturing beautiful photographs. One of the best times to truly appreciate the beauty of Phu Chi Fa is at sunrise. I made it a point to reach the viewpoint during the golden hour, and let me tell you, the gorgeous colors and mists surrounding the mountain tops were absolutely worth the journey.
I found various trails throughout the forest park to explore, and I discovered that walking up the trails led me to remarkable spots for photography. For those who are more passionate about the outdoors, renting a scooter or taking a motorbike ride could be a fantastic way to uncover even more hidden gems around Phu Chi Fa.
Further Explorations
In addition to the beautiful scenery, there are numerous other outdoor activities and adventures to embark on in the vicinity of Phu Chi Fa. I particularly enjoyed the amazing road trip that made exploring even more fun. For those who prefer a structured itinerary, joining a tour is a wonderful way to engage with other travelers while visiting exciting destinations.
For the adventurous ones out there, I recommend considering a trek around the area. It is a fantastic opportunity to fully immerse oneself in the natural beauty of northern Thailand. To help with planning, I usually make use of tools such as Google Maps and Skyscanner to ensure I have the most accurate and up-to-date information about the region.
As you can see, there is no shortage of thrilling options and captivating scenery to experience during your visit to Phu Chi Fa. Plan your trip, and let the adventure begin!